Sporting Kansas City took a big swing recently by signing both Matt Besler and Graham Zusi to long-term, Designated Player contracts.
DP contracts are the ones that pay the big money, and up until now had been utilized mainly to attract aging, foreign talent, like Thierry Henry and David Beckham.
Kansas City has signed several DPs over the years, with limited success.  Their other DP currently on the roster is Claudio Bieler, a guy that has struggled to even find playing time this season.  He'll be gone soon, probably before the season's end.  Then there was Omar Bravo, who fizzled out before returning to Mexico, and before that Claudio Lopez.
But this is different.  
Besler and Zusi have both been with Sporting KC since they were the Wizards playing at a minor league baseball field.  The duo, along with defender Aurelien Collin, were recently named as MLS All Stars.  And both became stars this summer playing for the US at the World Cup in Brazil.
(Side Note: No Dom Dwyer on the All Star team?  The Englishman is tied for second in all of MLS with 14 goals scored.  Is this just a beauty pageant or what?  Oh, it is?  Oh, OK…)
It looked like the prime was pumped for both of them to take the money and run to Europe.  But since both were still under contract with KC, that meant that a club had to buy them from Sporting, and then negotiate the player's salary separate from that.  And there were certainly plenty of offers flying in, from the EPL to the Bundesliga.
Props to Sporting for holding out and sticking to their guns, keeping (and paying) these bright young American players in the prime of their careers when the conventional wisdom has been to sell.  They haven't released dollar figures, but I'm guessing each is going to make around $1 million per season.
Now, this doesn't mean that they won't leave at some point down the road.  As Besler told Nate Bukaty this morning on 810 Sports, if Manchester United comes in and drops $10 million in Sporting's lap, they'd sell him in a second.  But that would be Sporting's decision.
I wonder how all of this sits with Jurgen Klinnsman, the US coach who has made it no secret that he wants his players to be tested in the best European leagues.  Remember his comments prior to cutting Landon Donovan from the World Cup squad?  Klinnsman justified the snub in part by pointing out that Donovan was dominating in MLS play while only playing at 80%.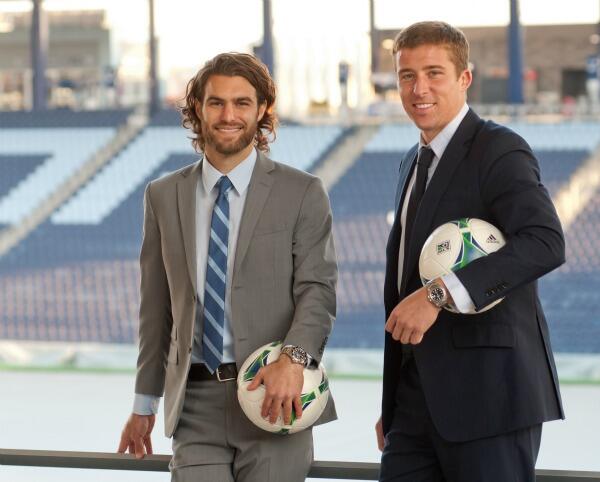 Regardless, this is a big, trail blazing step for Sporting.  A few years from now these signings might be seen as one of the moments that MLS took a big step toward leveling the league with the top flight European ones by keeping the best American talent at home, a prospect that mere days ago seemed highly improbable.