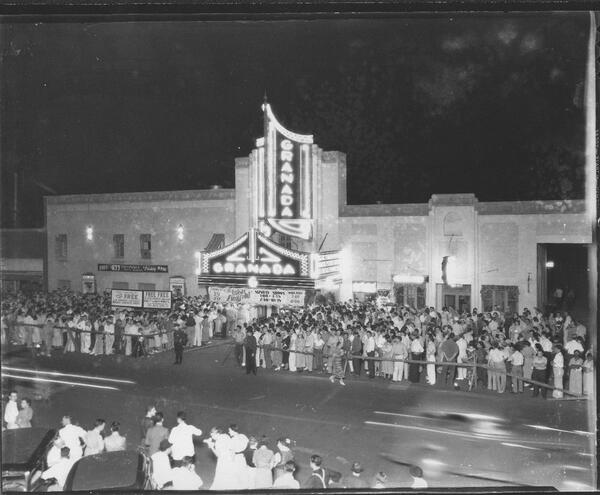 This week's a special one for a certain music venue in Lawrence that's seen its share of ups and downs over the years.
The Granada on Mass. Street is celebrating its 80th anniversary this week.  It was originally a movie theater, but has been a live music venue for the last 20 or so years.
To celebrate, owner Mike Logan has decided to jam-pack some quality shows together, along with some free outdoor events.  Tonight is California indie rockers Best Coast; Thursday night is punk revivalists AFI; Friday is alt-folksters Minus the Bear; and Saturday is legendary Cali-ska punks Rancid.
Don't look now, but Logan has been slowly taking over the Lawrence live music scene.
First off, Logan cleaned up the bad reputation that the Granada had about 10 years ago.  The 800 person venue was known among locals as the GraNasty, due to its grungy interior, miserable bathrooms, and often unruly and violent crowds.
Logan invested heavily in making the historic theater a nice place to go.  He built a bar in
the front, separate from the stage; re-did the bathrooms; expanded the balcony; opened up the main room and revamped the sound system; added amenities for the touring bands coming through; added tons of taps to the bar; and slapped fresh paint on everything.
Now, if you want to see a solid, national touring band almost any night of the week in Lawrence, the Granada is the first place to check.  And it makes sense, especially for the bands – I mean, have you ever seen the green room at the Bottleneck?
Check out their Facebook page here for a full listing of events.
Friday, September 20th
Mumford & Sons at Sandstone in Bonner Springs
They had to cancel the show that was originally scheduled for a couple months back when one of the boys had a blood clot removed from his brain. So this concert has been much anticipated for a long time.  And these guys just might be the biggest band in the world right now – yes, this show's been sold out for months and months.  But if you don't have a ticket, you can still listen in because 96.5 the Buzz is broadcasting the whole thing live on the radio.  I've seen Mumford once, and they put on a helluva show – one of the best of the year.  I truly don't think they're quite as flash-in-the-pan as some of the others they get lumped in with, like the Lumineers, for example.