Unless you're heading out to Sporting Park for the Flatlands Festival – featuring Charlie Daniels, Luke Bryan, Darius "don't-call-me-Hootie" Rucker, Toby Keith, and many more – this weekend looks like a good one to catch some local talent.
The Crossroads Music Festival is happening Saturday, featuring Hearts of Darkness, Grisly Hand, and about a dozen other local bands.  Check out their website.
Then check out these local bands…
Saturday, September 14th
Arthur Dodge and the Horsefeathers at the Jazzhaus in Lawrence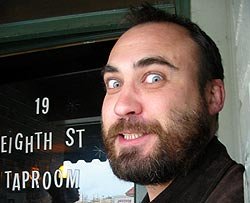 If I've said it once, I've said it a thousand times – go see Arthur Dodge and the Horsefeathers.  If you are a fan of Howard Iceberg, for example, you'll like Art and Co.  In fact, I think Art should be esteemed like Howie is – after all he's been on the Lawrence-KC scene since, well, as long as I can remember, just pumping out tunes about heartbreak, booze, old cars, and mean women.  Also on the bill is the Hips, a supergroup of sorts, comprised of a couple members of Ghosty and Drakar Sauna.  And if that's not enough, how about the fact that this show is at the Jazzhaus.  I mean, when was the last time I told you to go to the Jazzhaus?  Must be somethin' special.
The Noise FM, Quiet Corral, and Cowboy Indian Bear at the Riot Room in KC
This is a record release party for the Noise boys, Chicago indie-rockers originally out of Lawrence.  Their new album, entitled Attraction, has been about 3 years in the making, but you can bet that it still features their trademark excellent vocals, throwback guitar solo work, and catchy as shit rock hooks.  Rounding out the night are local favs Quiet Corral, who just released a great album of their own, and Cowboy Indian Bear (who are listed as "very special guests" for some reason).  Noise FM is also playing Friday night in Lawrence at the Jackpot.