Full week of events in the KC metro…
We've got Sporting Kansas City defending their US Open Cup championship on Wednesday at the Legends.  The Westport Summer Beer Festival goes down Saturday in front of McCoy's (sponsored by Sporting KC).  And then there's all the usual stuff that comes with the temperatures finally reaching into the 90s, like heading out to the lake, hitting a park for a picnic, or making a jaunt to the local pool.
Plus, some good shows…
Thursday, June 13th
Hospital Ships at the Replay in Lawrence
This is the tour kickoff party that will send this revered Lawrence indie rock band on their way to the east coast.  Recently released Destruction in Yr Soul has been getting consistently good reviews, and was even featured on NPR's All Songs Considered about a week ago, along with the likes of Pete Yorn, John Vanderslice, and others. Listen to the song they picked here, and get a little taste of what makes this band one of the area's finest.  Not to mention singer-songwriter Jordan Geiger's hauntingly high vocal abilities.
Sunday, June 16th
Father John Misty at the Granada in Lawrence
Last time Father John and his merry band came through town was only a little more than 6 months ago, when they played a near-sold-out show at the Bottleneck.  I didn't make it out, but from what I heard pretty much everyone there got pregnant.  From iheartlocalmusic.com's review of that show:
"The string-bean folky performer wiggled his hips, flipped his hair, and had a flamboyant hand gesture for every lyric in his songs. He was so flirty and sensual onstage, it looked like he was slowly undressing every single audience member with his eyes. He, at one point, held and kissed the hands of some very lucky ladies in the front row, and we wouldn't have been the least bit surprised if he gave them a big wink every now and then. It's hard not to feel like you had just done the dirty deed with him when he addressed the end of a song like the end of a bed-sesh. "Thank you, baby cakes!" he blurted after one of his tunes (much to the delight and squeals of the ladies)."
Aside from all that sex, it should be noted that the band's most recent album, Fear Fun, was a highlight of 2012.
Monday, June 17th
Mumford & Sons at Cricket Wireless Amphitheater in Bonner Springs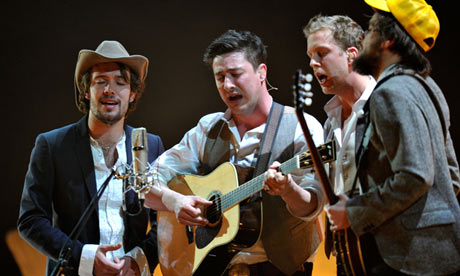 So, what can I say about these Brit-grassers? Their most recent album has gone over huge, despite the fact that it sounds exactly like their first. Why mess with success, right?  Nevertheless, the band's performance at Wakarusa 2011 was impressive, packed with energy and really sweaty, pasty dudes wearing jeans in the Arkansas heat.  I think Marcus Mumford ducked behind the keyboard at one point to throw up.  But the show was stellar, as I expect this one to be as well.  It's already sold out, of course, so you're going to have to scrounge around a bit if you didn't plan ahead.