The days are getting shorter, football season is finally gearing up, sun dresses are disappearing (gasp), blah blah blah…
Besides the obvious though, what fall means to me is that the Harvest Music Festival is right around the corner.  For those not in the know, here's the deal:
It's held on the same grounds in Arkansas that Wakarusa now calls home.  But the vibe of this fest is much different.
Think less glow sticks, and more moonshine.
And the lineup is the best they've ever put together in the festival's few years of existence.  Headliners Yonder Mountain String Band, Leftover Salmon, Mickey Hart Band, and North Mississippi All Stars are joined by the likes of Split Lip Rayfield, Joe Purdy, Sam Bush, the Gourds and many others.
The hoe down goes down on October 11-13th, and tickets are available at http://www.yonderharvestfestival.com/2012/tickets.asp, with a three day pass going for $145 right now.  There are cheaper options, too.
On to this week's picks…
Thursday, September 6th
Langhorne Slim & the Law at the Record Bar in KC
Does this guy ever stop touring?  I don't think so.  He recently released a new record in May called The Way We Move that's an Americana-folk blast from the past, complete with plinky bar room pianos and spare-sounding banjo rolls.  But most noticeable, as always, is Slim's scratchy, earthy, beyond-his-years vocals whose sound tells the story as much if not more than the actual words.
Friday, September 7th
Buckwheat Zydeco outside the Lied Center in Lawrence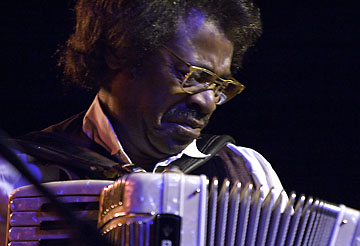 His real name is Stanley Dural, Jr., and he's playing a free outdoor show at the Lied Center at 7 p.m. Bring your lawn chairs, your blankets, and your picnic baskets.  And get ready for some good, down home New Orleans party music from Buckwheat's six piece band who have opened for the likes of Eric Clapton and U2.
Saturday, September 8th
Hall & Oates at Starlight in KC
Once a punch line for young punks such as myself, this soulful duet has recently sprung
back onto the cool side due in large part to the overwhelming success of Daryl Hall's web series, Live From Daryl's House.
The show features, among other things, Daryl's mom cooking for the various guests that stop by, and of course, the legendary blue eyed soulster usually collaborating on a few tunes with the guest musicians.
And no, it's not a gimmick, it is actually shot at Daryl's actual house.
Check out the website to see him mess around with the likes of Cee Lo, Jason Mraz, Jose Feliciano, Todd Rundgren, Grace Potter, Mayer Hawthorne, Nick Lowe, and even The Bacon Brothers.  Oh, and John Oates, of course, sans the awesome mustache these days.
Strider, Stik Figa, Ebony Tusks at the Jackpot Music Hall in Lawrence
Interested in some kinda-smart local hip hop?  Then come on out for the white-boy, lightening fast rhymes of Strider.  But stay for the polished Topekan stylings of Stig Figa, who is one of the area's best hip hop artists going.  Not that Ebony Tusks aka Cowboy Indian Bear's Marty Hillard is chopped liver.  Since debuting his alter ego a couple years ago his show has evolved into the real deal, and his pop consciousness adds a nice angle to his melodic tracks.