Over the weekend, Sporting KC eked out a forgettable 1-0 win at the New England Revolution.
The lone goal came courtesy of a struggling Teal Bunbury, who capitalized when a New England defender misjudged a high bouncing ball.  Bunbury scooped it up, took a touch, and finished the breakaway easily, looking unsurprised after putting the ball into the back of the net.
Me?  I was surprised.  It's a play he's blown a bunch of times this season, and his nonchalance afterwards came across almost as relief – or disbelief – that he'd actually finished the routine play.
Other than that goal, probably the most entertaining part of the game was watching Peter Vermes and New England boss Jay Heaps scream at each other.  I actually felt bad for a ref for once – the fourth official who had to stand between the two coaches.
Meanwhile, across the Atlantic, Sporting midfielder Roger Espinoza was fighting for his native Honduras' Olympic life against the legendary samba soccer boys of Brazil.
And fight he did, scoring a goal that gave Honduras a 2-1 lead even though they were a man down for over half the game.  Espinoza also played a big part in setting up the first goal, beating a Brazilian defender before sending a cross into the box.
Even though Honduras lost the game 3-2, and even though Espinoza was issued a red card in the 90th minute, all reports indicate he was given a rousing standing ovation from the British crowd, his teammates -and even from the Brazilian bench.
That's a bit unusual to say the least.
Honduras head coach Luis Suarez chalked it up to the relentless midfielder's epic game, which Espinoza himself has said was his best ever.
"We are used to seeing him play in such a way," Suarez told Fox News Latino's Michael Lewis. "He's a such an excellent player. He wears his heart on his sleeve."
"People were disappointed to see him leave the field, but I was not surprised to see the ovation from the crowd because they clearly recognize quality from him," he said.
Others are starting to recognize Espinoza's quality, too.  At halftime of the LA Galaxy-Seattle Sounders game last night, American soccer clown Alexi Lalas said he had spoken to Espinoza's agent, and that several EPL teams, and at least one La Liga team is interested.
But is Roger interested in heading to Europe?  You bet.
"That's the plan, obviously," Espinoza told Lewis. "I want to play in a top league and the English Premier League is one of my favorite leagues. If the chance arises, I wouldn't hesitate to be here. I love the league. I watch it every morning in the USA."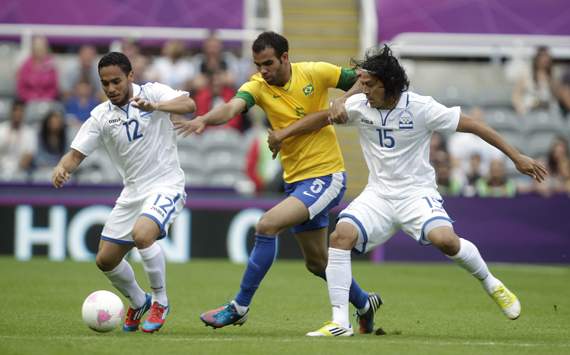 So there you have it, KC.  Enjoy Roger while you still can.
Your next chance?
Why, it's just around the corner, Wednesday night to be exact, out at LIVESTRONG for the US Open Cup Final against Seattle.  Word is, Roger hopped on a plane right after Honduras was eliminated and will be available for the final, which I'm predicting will be the largest crowd and best atmosphere in the stadium's brief history.
Until the MLS Cup Final, of course…