With a 1-0 loss on Saturday at DC United, Sporting Kansas City have no wins in the last five games.  You have to go back almost a month – May 10th to be exact – to see the boys in blue in the win column.
The story on Saturday was a familiar one to those who have been following the MLS Cup Champions for the last couple years.  Sporting more than doubled DC's shots, dominated possession, yet walked away with nothing.
Granted, they were without Graham Zusi, Matt Besler, Aurelien Collin (subbed out in first few minutes with hamstring), Chance Myers, Ike Opara, and Uri.
But perhaps we've been analyzing this trend in the wrong way.  After all, it worked out well enough for KC last year.  Maybe Sporting is actually overachieving tremendously, and the games like this are just the inevitable low spots?  
Whatever your take is, there's no denying that watching chance after chance go unrewarded gets frustrating.  Why can't we finish?
"[E]very time we went forward obviously they bunkered in and they tried to counter," explained KC boss Peter Vermes after the DC loss.  "That was their game, but we had some very good chances in and around the box. A couple unlucky ones, especially in the first half. We had a great ball inside the six-yard box that banged off a couple guys as opposed to getting a clean shot off, but that happens sometimes."
And that's almost always the explanation.  Unlucky.  The other team bunkered.  The refs.
Throw in another bad decision from Sporting keeper Eric Kronberg that gifted the home squad a goal and, well, KC comes home with nothing.  The play in question saw DC winger Fabian Espindola about 35-40 yards out on the right side, looking to play into the box what looked like a cross.  As he struck the ball, Kronberg lunged forward a couple steps, then realized the ball was heading toward the far post.  Kronberg tried to recover but couldn't get back in time, and the ball nestled softly into the net.
"He made a mistake, you know," said Vermes.  "There is nothing around it. You know, it was his mistake, but you know that happens sometimes. But outside of that as a group we played very, very well."
I get that despite Kronberg's long tenure with the club, he is a virtual rookie since he's barely played prior to this season.  But sooner or later something's got to give.  I don't think that even his stellar goals against average will be enough to save his job if he continues to concede goals that are a direct result of his decision making alone.
Now here's the bright side.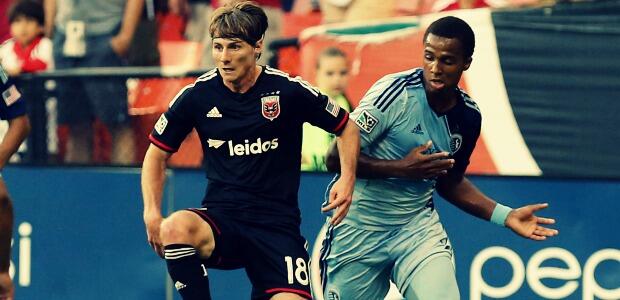 Sporting is young.  Really, really young.  In this game alone they used Toni Dovale, 24, Dom Dwyer, 23, Alex Martinez, 22, Kevin Ellis, 22, Jimmy Medranda, 20, Igor Juliao, 19, and Erik Palmer-Brown, 17 (!).
A couple of these guys look like the real deal – notably EPB and Dovale, whose silky handle and composure looks like no KC player I can recall in the last several years.  And Palmer-Brown already has the physicality and presence to match up against the best strikers in the league, as he did against Eddie Johnson on Saturday.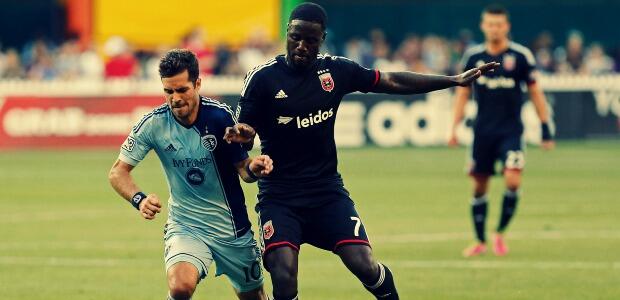 Add to that the emergence of Benny Feilhaber as one of the better possessors and passers in the league right now, and KC does have some positives going forward, even with all the injuries and national team call ups.
Sporting has only 2 MLS matches in the next month, so you can be sure that Vermes will be using all that practice time to get guys healthy and further integrate all the youngsters into the rotating cast of characters.  Which could pay big dividends as the marathon MLS season continues.