Maybe being on national TV gave Sporting Kansas City a little extra incentive to come out strong…  
Then again, maybe it was the sold out mid-week crowd that showed up to see stars like Thierry Henry and Bradley Wright-Phillips bring the high powered New York Red Bulls offense to town.
Whatever it was, Sporting came out firing from the opening whistle.  And they did so with a lineup that featured plenty of newcomers due to injuries and national team duties.
One of the newbies, Igor Juliao, ignited the crowd in the first minute, showing some speed and skill down the right flank.  He dribbled nearly from the half line all the way into the 6 yard box, then delivered a cheeky little chip that beat New York's keeper, but was saved off the line by a defender.
Just minutes later, the Red Bulls were forced to clear another off the line.
Which was followed immediately by a Benny Feilhaber free kick off the crossbar on a set piece in the 5th minute.
One helluva start from what was supposed to be a cobbled together lineup for KC.  I mean, a goal had to come.
Add to that the fact that red-hot KC striker Dom Dwyer was getting into gaps and NY's defense looked in shambles.  Sporting was dominating, and doing so in quite an entertaining fashion.
Almost expectedly, in the 9th minute, Spanish newcomer Toni Dovale ripped a low left footer into the far bar netting from about 20 out.  Blue confetti showered the crowd.
"He's very good with the ball," gushed KC boss Peter Vermes of his newest star.  "It's not easy to get the ball off him. He can give a final pass and as you saw tonight he can score. He almost scored a second one in the second half. He's just got a very high aptitude for the game, and I think it's because he's smarter than most of the players he's playing against."
That's perhaps some of the highest praise I've ever heard from the normally stern Vermes.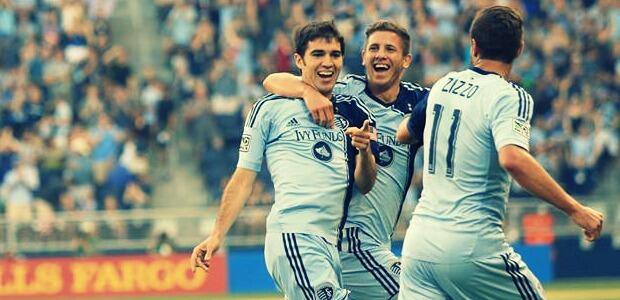 But New York wasn't going down easy, not with their veteran squad.
A few minutes into the second half, Henry played a ball through to what looked like on offside Wright-Phillips.  But the flag stayed down and the English striker coolly buried the 1 v 1 chance to tie the score.
With the sides level, things started really getting competitive.  Every ball and every tackle were contested by both squads.  The crowd responded, adding energy and tension the increasingly physical affair.
"It was an incredible atmosphere," remarked New York defender Chris Duvall.  "Coming out of college and being my second game, I haven't seen an away atmosphere like that. It's fun. Those are the types of games we all want to play in. We all live to play in the big pressure, loud stadium moments."
Then shit got weird.  On a clear scoring opportunity, Dom was called for offside when the replay showed he was clearly on.  A few minutes later Dwyer went down near midfield, apparently fouled.  But no whistle blew, and the ball trickled through to KC keeper Eric Kronberg.
Then Kronberg went all Kronberg.  Like he does.
He ran to the ball, a good ten yards outside the penalty area, picked it up, and threw it back to where he thought the foul on Dom was.  The ref was a little stunned, but whistled the hand ball on the KC keeper, obviously.
Kronberg has some serious decision-making problems, and it's going to really bite KC at some point this season in a much more critical position if he doesn't get it sorted out.
In the end, KC was forced to settle for the one point.
"It was probably a fair result, but going up 1-0 you want to try and get all three points," explained Feilhaber afterwards.  "It's definitely not easy under the circumstances, and I think we did a pretty good job."
Despite the tie, and on the bright side, the game was massively entertaining from start to finish.  Which isn't always the case to be sure.  The infusion of new, young and hungry players into the KC lineup has been a shot in the arm, even if the results aren't coming yet.
Perhaps they will soon.