With Matt Besler and Graham Zusi out with the national team for the upcoming World Cup, Sunday's lineup at the Chicago Fire was already going to look a bit different.
But then down went Aurelien Collin with a hamstring issue.  Lawrence Olum got called up to play for Kenya.  And Ike Opara is out for the season with an injury.
Since every other option at center back was ruled out, that meant that 17 year old KC native, Erik Palmer-Brown, would be making his professional debut earlier than expected.  Despite his youth, EPB held his own physically fairly well.  But he conceded a penalty kick in the first half, and picked up a second yellow card early in the second half forcing Sporting KC to play shorthanded for the rest of the afternoon.
Other newbies included Toni Dovale in the midfield, making his second appearance, and Igor Juliao in the back, also notching his second straight appearance for Sporting.
To say the lineup was made on-the-fly is an understatement.  KC lined up in a 3-5-2 for the first time that I can recall.    
"We are in a difficult position at the moment based on our central defender situation," said KC boss Peter Vermes after the 2-1 loss.  "It has forced us to change a little bit in our formation, stuff like that.  But at the same time, I think the team did well.  We were down to ten men.  We ran the game.  They were just hanging on, doing all they could do."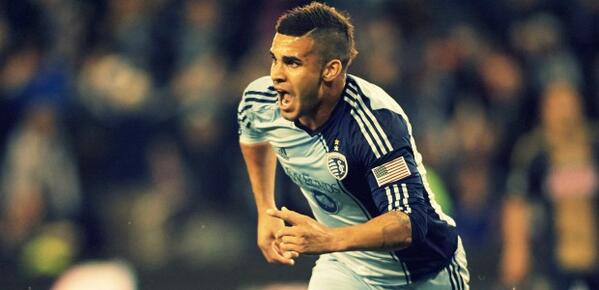 Vermes is right about running the game.  In fact, Sporting actually looked stronger after they went down a man.  Red hot Dom Dwyer got on the end of a curling Benny Feilhaber free kick and powerfully headed the ball into the net.
"I was actually standing next to Benny, trying to cross it in, and he's like, 'no, get in the box, we have ten men,' and I was like, all right and got into the box and scored," explained Dwyer.  "So he was right. I will listen to him next time."
And Dom almost equalized a bit later on a ground cross in the 6, but he couldn't quite get his toe to the ball.
Plus, both Chicago's goals came on questionable PK calls.
Sporting was unlucky to not equalize, and the heart they showed playing short will go a long way with their flat-topped, red-assed, taskmaster.
Speaking of which, Vermes was not shy after the game in showing off some of that fire to the ref.  As the camera followed him, it caught Vermes giving the ref a pretty good earful.  I'm no lip-reader, but from his body language and posture, I'm guessing whatever he said was anything but complimentary.
Next up for Sporting KC is a home match this Friday against Toronto.