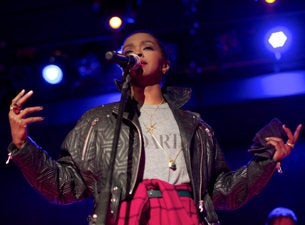 The big news in the KC music scene right now is the appearance of Lauryn Hill this summer at the Uptown Theater.
After exploding onto the scene and winning five Grammys with her debut album, Hill's career took some weird turns, including a self-imposed exile, writing a screenplay about Bob Marley, and a stint in prison for failing to pay around a million dollars in taxes.
Though she never came close to replicating the success of her first record, there's still an aura about her, a belief that she is one of the greats, for some reason.  If you want to get into the show, I'd get in line now.  Tickets go on sale tomorrow (3/28)…
Friday, March 28th
Alejandro Escovedo and the Sensitive Boys at Knuckleheads in KC
This Austin, Texas road warrior makes a couple trips to Knuckleheads per year, and his shows are almost always sold out affairs.  His genre-bending style has shifted over the years, from his days in early 70s punk bands, to his alt-country leanings, to what he is doing now, which is a blend of blues, rock, folk… you get the drift.  He's a shape shifter, and a musician that other musicians often point to when asked who their favorites are.
Monday, March 31st
St. Vincent at Liberty Hall in Lawrence
Over the last few years this Oklahoma native has gotten her weird on through collaborations with David Byrne – not that she wasn't quirky before.  But lately she's even starting to look like Byrne, with the mad scientist hair and crazy eyes.  Her disjointed style on both guitar and vocals offers an interesting style that is as unique as it is confrontational.  Especially the guitar riffing, which is impressive, to say the least.  And from recent live reviews of her performances, it seems that she's skewing toward the theatrical in terms of her stage show.
Tuesday, April 1st
Arlo Guthrie at Liberty Hall in Lawrence
OK, let's get it out of the way: Alice's Restaurant.  There.  You think he is contractually required to play it at every show?  I wonder… Anyhow, this show is a seated one, with front floor seating going for about $100!