It's not my birthday, is it?
It kinda felt like it when I heard the news that Mötley Crüe had vowed to never play again after their next tour that kicks off this summer.  They even signed a "legal document" promising as much.
So where will I go for my unnecessary umlauts, you ask?  And lyrics like, "Skydive naked
from an aeroplane/ Or a lady with a body from outerspace/ My heart, my heart/ Kickstart my heart…"?
Just let it go, man.  Let it go….
Friday, January 31st
Trey Anastasio Band at the Uptown in KC
Everyone knows the grinning, red-headed guitar virtuoso front man of the legendary Vermont jamband, Phish.  What some might not know, is that over the years, he's been involved in roughly a dozen other projects from Oysterhead with Les Claypool and Stewart Copeland, to writing and performing orchestral arrangements with groups across the country.  His current lineup features Russ Lawton (drums), Tony Markellis (bass), Cyro Baptista (percussion), Ray Paczkowski (keys), Jennifer Hartswick (trumpet, vocals), Natalie Cressman (trombone, vocals), and new-comer James Casey (saxophones, vocals).  Attendees can expect plenty of Trey's trademark wanking, lots of haze hanging in the air, and tracks from all across his various projects, including a handful of Phish tunes.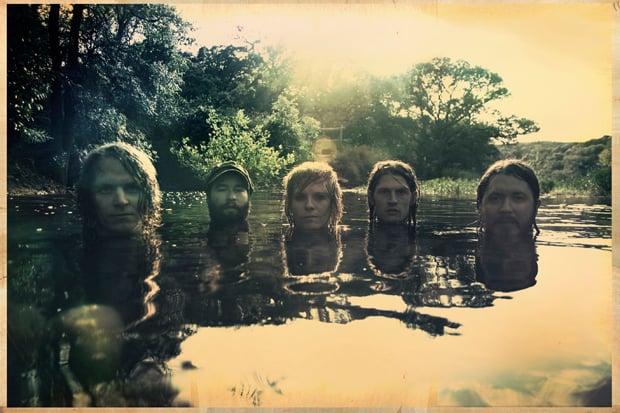 The Black Angels at the Granada in Lawrence
This Austin band blends buzzy, punky guitars with a psychedelic twinge and trippy, reverb-soaked vocals.  They've actually been around for about a decade, and played Lollapalooza in 2007, but never quite took that next step to larger success, though they have toured with the likes of the Black Keys and Queens of the Stone Age.
Alton Brown at the Midland in KC
Food Network god Alton Brown is known for his super nerdy takes on just about anything and everything cooking-related.  Want to know the scientific reason that you should let your steak come to room temperature before throwing it on the grill?  Or what happens at the atomic level when you make a soufflé?  Yeah, neither do I.  But this show offers more than just chemistry class food analysis.  According to his website, Brown's 90-minute show is "a unique blend of stand up comedy, food experimentation, talk show antics, multimedia lecture, and, for the first time…live music."  And apparently if you're in the first few rows you will be given a poncho – Gallagher-style – to shield yourself from the spillage.
Saturday, February 1st
Bill Cosby at the Midland in KC
He just won't ever stop, will he?  The elder statesman of comedy rolls through town for two shows on this winter evening – one early and one late – on his Far From Finished Tour.  Tickets start at $50 and are still available.  Of course you can expect some riffing on the usual suspects – wives, kids, growing older – in Cosby's wheelhouse.  But of late the Cos has also taken to being your grandpa, dispensing other wisdom.  Like how to cure a common cold.  From his website:
"As soon as you feel the onset of symptoms of a cold or allergies, do the following:
Take a ginger root the size of your thumb, slice into paper thin slices – Slice, slice, slice … Take two radishes and do the same – remember, not dice but slice as in the old days when we sliced baloney. Put all this into a tea pot then add boiling water and steep for a half-hour. Pour a cup, strained of course, for the morning, one for lunch, another before dinner and one before bed. Do this for two days."
Nuff said?