Holy balls, there's a dickload to do this weekend…
You guys probably know that I'm into music, soccer, booze, and David Hasselhoff.  That much is fairly obvious if you've been playing along.
But I'm also really into meat (insert Leftridge joke here).  So this weekend, like any real meat-lovin' KC heart-attack-waiting-to-happen, I'll be strapping on my cowboy boots and heading on down to Kemper for the American Royal BBQ.
This lawless square mile in the west bottoms is truly anything goes, if by "anything goes" you mean getting drunk on smoked meat and sobering up with 12 beers before hopping onto a bus that reeks of vomit and shame, then trying to remember where you parked your car before one-eying it back home to the suburbs.
You know the deal… 
Wednesday, October 3rd
Ingrid Michaelson at the Granada in Lawrence
Girls really love Ingrid Michaelson.  So just FYI dudes, if you're looking to pick up on some emotionally spent indie chicks, the 30 minutes after Michaelson's set is your window into what I like to call the no pants zone.
Her music is probably best known for being featured on a ton of different tv shows, like Grey's Anatomy, Scrubs, some vampire show, and a shitload of commercials.  Her most recent album, 2011's Human Again was warmly received and debuted at #5 on the Billboard charts.
Friday, October 5th
Edward Sharpe & the Magnetic Zeros at Crossroads KC
Last time I caught these guys they were busy stealing the show on the main stage at
Wakarusa in June.  The eccentric folk-rockers were probably the best act of the whole festival in my book, or close to it.  I had seen them once before, way back in the fall of 2010 when they were at the Beaumont and I was covering my first ever show for KC Confidential.
Since then they've released another album and become much more polished performers.  So don't write these guys off as another one in the line of flash-in-the-pan folk revival acts a la a couple of bands we saw last week (Head & the Heart, Lumineers).  Nope, these guys are much more unique – and talented – than either of those bands.
Bass Nectar and Ghostland Observatory at Burcham Park in Lawrence
It's not just hobos that chill at Burcham Park by the river near downtown Lawrence.  This Friday there will be plenty of crazies out there for a cool concert event.  Come to think of it, I wish Lawrence had more outdoor shows in general. 
This deal is an all ages throw-down, with the opening acts getting started pretty early around 6:00.  I've been told Bass Nectar will be done by midnight at the latest, so be sure to get out early for this dub step-a-palooza.  And yes, Bass Nectar is huge right now, especially with the youngsters, so expect this scene to get packed out and most likely someone's getting thrown in the river.
Kristie Stremel at the Replay in Lawrence
You probably know her from Frogpond or Exit 159, both bands that did pretty well in the KC and national scene.  But lately Stremel has been doing the solo thing, and it's kind of interesting.
Her gig at the Replay is listed both as an "early show" and a "band show."  So I'm not sure exactly what that means.  But she's always worth checking out.  Come early and play pinball for FREE.
Antioquia at the Firefly Lounge in KC
This band is kind of hard to describe, but here goes anyway: A world music version of Primus, but with both male and female vocals, and melodic break grooves kind of like 311 at times, but with way more percussion.  Hey, I tried.
And lookout if you go to the show, because their website promises that the band members will play from amongst the crowd for at least part of the performance.
They're also playing Thursday night at the Jazzhaus in Lawrence.
Tuesday, October 9th
Stars at the Bottleneck in Lawrence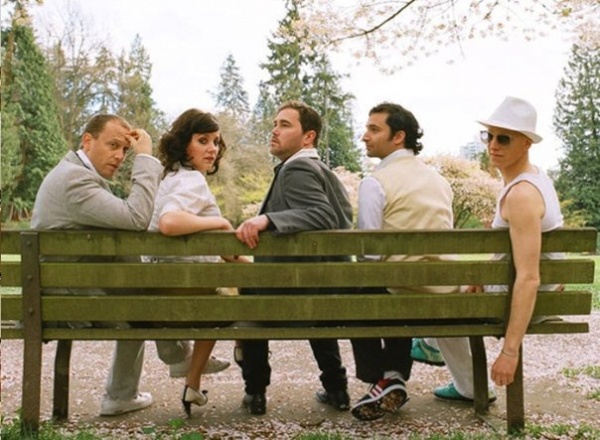 OK, full disclosure, these guys are Canadian.  Still there?  Good.  They're rolling into town with a fresh new record that was just released a few weeks ago entitled The North.  The album opens with a splashy '80s Casio synth beat backed by swelling electronic chords that give way to floaty vocals that remind me a little bit of Blondie.  Kinda cool I must say.
And I think the Bottleneck is likely one of the smaller venues these guys will play anytime soon.  So lucky us Lawrence!  As usual, right?  That's what we get for being so damn hip…