Any of you guys heard of this Winfield thing going on down south this weekend?

Apparently, lots of local musicia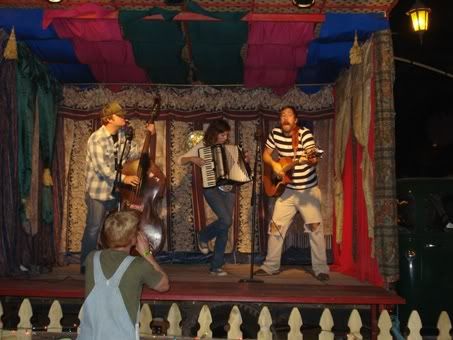 ns are heading down for some hootenanny, leaving the Lawrence and KC cupboards bare of any roots, bluegrass, and country for the time being.
But don't panic, oh loyal KCC music lovers.  If you can't make the jaunt down to the Valley, pop on over to Lawrence for some killer shows, starting on Wednesday with a truly unique showcase that mashes a half dozen local artists into one giant ball of sound.
Allow me to explain….
Wednesday, September 12th
Red Bull Locally Thrown at the Granada in Lawrence
They did one of these a few months ago at the Crossroads KC and it was a throw-down that won't soon be forgotten.  Now they're coming to Lawrence to tear it up with the kids.  Here's how it works:
Three local bands get paired with three local mixmasters to cut it up live on stage.  The result?  An unpredictable, on-the-fly, one of a kind musical collaboration that brings different styles and genres together for one big party.
This go around features afrofunk band SUNU paired with DJ Kimbarely Legal, hardcore Lawrence act My Brother, The Vulture alongside DJ G Train, and everyone's favorite local Latin rock band Making Movies having at it with DJ Brent Tactic and DJ B-Stee.
It's an 18 and over show, and oh yeah, it's FREE.
Thursday, September 13th
Wild Nothing at the Jackpot in Lawrence
This east coast dream pop band is the brain child of Jack Tatum, formerly of Jack and the Whale.  Their music is synth heavy and precisely composed, but not quite to the point where you're just as well listening to them at home with your earphones on.  They remind me a little bit of Best Coast, with the floaty melodies and super tremelo guitars.  Their latest release, 2012's Nocturne, has landed on Pitchfork's Best New Music list, with an 8.3 rating.  Ian Cohen could barely keep it in his pants after listening to the record, saying:
"Entire labels and local scenes are dedicated to preserving the era Nocturne evokes– lacquering the malaised vocals, getting the right reverb plates, and hoping that aesthetic identification is more important than writing melodies that stick."
The Melvins at the Bottleneck in Lawrence
These influential punks have been at it as a band for 30 years!  Crazy, right?  Some of their early material influenced, well, just about everyone in the grunge scene, including Nirvana, Soundgarden, and Tool.  They're swinging through town as "The Melvins Lite," a three piece lineup consisting of Buzz Osborne, Dale Crover, and Trevor Dunn and they just released an album called Freak Puke with this abbreviated lineup.
Consequence of Sound's Adam Kivel had this to say of the new material:
"When any band has been around as long and produced as much skull-crushingly good music as Crover and Osborne have, they get a free pass for this sort of side-project experimentalism. That said, they're too good to have that experiment fail, and Freak Puke can sit proudly in the Melvins canon."