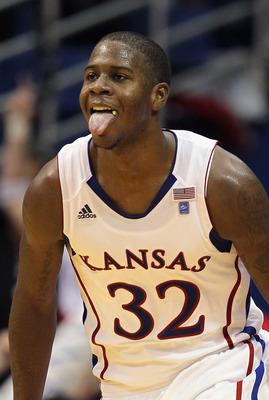 "You shouldn't use certain words on the airwaves but that is absolute crap! Josh is a very good athlete. Josh is one of the more athletic kids on our team. That's how rumors get started. That's as false as anything could be. One thing that is a coach's responsibilities is to promote his kids and put them in the best light they can possibly be."
Bill Self, in an interview with Nick Wright, after Wright asked him to comment on a report that stated KU didn't find Selby to be as athletic as thought and that they intentionally limited Selby's play at KU to make him less attractive in the NBA draft, 610 AM
GH: Wright has long held the opinion that KU's handling of Selby will hurt the Jayhawks in their future efforts to recruit top recruits. Some of those fears are possibly coming to fruition. Read on.
"(Josh) Selby was, in a word, awesome in the (NBA) workouts I saw in Vegas. At Kansas, Selby looked wild, out of control and oddly unathletic. He struggled to create space from himself and made a number of bad decisions with the ball and in his shot selection. In Vegas he once again resembled the superstar we saw in high school. He was explosive athletically, got to the basket at will and shot the ball very well from range."
Chad Ford, NBA draft expert, in a May 13, 2011 post on ESPN.com
GH: Could it be Selby is simply allergic to wearing the uniform of the "City of Kansas?" How could Selby play like Jelani Janisse while at KU but then turn into Dwayne Wade in his Vegas workouts?
"Well he wasn't as athletic! He played with a broken foot!"
Bill Self, 610 AM
"If Josh Selby is the 57th pick in the (NBA) draft, that hurts Kansas as far as landing the next big recruit. If Selby were to fall in the draft, that unquestionably hurts Kansas in short term recruiting."
Nick Wright, 610 AM
"Let's face it: The past year was largely a waste of Selby's time and KU's effort. The school's basketball staff, academic support staff and compliance staff spent an enormous amount of manpower on getting the guard from Baltimore eligible. Part of it was an undertaking to determine his amateur status, but a bigger part was fighting for his academic credentials to be accepted."
Pat Forde, senior writer, ESPN.com
GH: Self disagrees that the effort to land Selby was a waste of time. But it is difficult to argue Forde's point when you view Selby's truncated career at Kansas. Read on.
"It was a full-time job for a period of time. But it was worth it, because the right thing occurred. We believed he was a qualifier. It would have been an absolute shame if he didn't play college basketball because we didn't fight for him. I'd do the exact same thing all over again. No question. Josh dealt with more crap than any other freshman I've been around."
Bill Self, ESPN.com
GH: Self appears to be pointing the finger at the NCAA for dragging their feet in ruling on Selby's eligibility. One of Self's jobs is to be able to recognize problem recruits and foresee difficulties that might hamper a recruit and his team. Self whiffed on this one.
"Selby's failure to finish the spring semester should theoretically hurt the program's Academic Progress Rating, but Self was quoted as saying at the time of Selby's announcement that he 'worked with his professors to complete his work for the second semester.' If that's true — that a borderline student out of high school was able to finish his semester's work weeks ahead of time without attending class — then every degree the school has ever granted has been cheapened. But that's just part of what makes the Selby story a sorry one."
Pat Forde, ESPN.com
GH: Selby successfully completed his school work for KU's second semester without being in Lawrence and while attending NBA workouts in Vegas? Sure.
"I talked with Bill Self out at Fire Keeper (Golf Course) on Sunday and he said the (NBA) draft is not that strong this year and that it's a great year for Josh Selby to come out. He thinks he'll go in the first round."
Bruce Steinbrock, afternoon drive host on Topeka's WIBW 580 AM
GH: Selby appears to be moving up on many NBA draft boards. I will still be shocked if he can turn his lackluster year at Kansas into a first-round draft pick.
"Never will I get into my car and turn it to a sports talk radio station. Never."
Bill Self, in an interview with Nick Wright on Tuesday, when asked if he ever felt like calling into a talk show to set the record straight about a subject he knows has been reported incorrectly, 610 AM
GH: Self didn't say this with any maliciousness but rather as a matter of fact. I wonder what Self has on his presets – maybe some Country and some Garth Brooks' CDs?
"Thomas (Robinson) could maybe get a check (if he would have entered the NBA draft). But is Thomas prepared for a career? He could get a check but that's not money you can retire on. … He has maybe a chance to be the best player in our league. His stock will go way up. He has the opportunity now to be the guy. And being the guy will get you drafted a lot higher."
Bill Self, 610 AM
GH: Robinson will be a very interesting player to watch next season. Without the Morris twins to compete with for time and exposure, he could become one of college basketball's biggest names.

"I don't see myself being a pro guy. I don't want to say never."
Bill Self, telling Wright he is singularly motivated to win a second national title at Kansas, 610 AM
GH: Self didn't shut the door on the NBA but it appears to me he will not consider it until he wins a second national title at Kansas.
"I think the Big 12 (basketball) is gonna be pretty weak next year to be frank. … I think there are going to be a lot of sixes and sevens instead of nines and tens. I think it'll be a fun league to follow. I just don't think there are any elite teams or top-10-level teams."
Jason King, of YahooSports.com, 610 AM
GH: So who does King think will be good in the Big 12? Read on.
"I'm gonna sound like a proud (Baylor) alum but I like Baylor. Their talent level next year is just gonna be sick. They are gonna have two guys who could be drafted in the top five (in the 2012 NBA draft). But I'm gonna keep going with Kansas to win the conference until they prove me wrong."
Jason King, when asked by Bob Fescoe who he thought would be the best basketball team in the Big 12 next season, 610 AM
"I think (Kansas State) is gonna struggle. But (Frank Martin) is a good coach. It will be interesting to see if they can make the tournament. I think Iowa State is a team that is gonna be really, really good.""
Jason King, 610 AM
GH: King listed KU, Baylor, Mizzou, Texas A&M and Iowa State as teams he likes in the Big 12 next season. He may have simply overlooked Texas and OSU.
"I'm saying right now, Frank Martin is in better shape to win than Frank Haith. I don't worry much about Frank Martin and Kansas State basketball. He's doing fine. They win pretty much every year he's there."
Kevin Kietzman, 810 AM
GH: Now it is KK who is sounding like a proud alum. Martin is banking on some juco transfer to bolster his team. That could prove risky.
"Is K-State next year an NIT team?"
Nick Wright, talking to Rob Cassidy from GoPowerCat.com, 610 AM
GH: Cassidy waffled on his response saying it depends on how Martin's new recruits work out. But he seemed far less certain of KSU making it to the NCAA tourney than KK.
"Kansas State basketball coach Frank Martin was recovering at home Sunday after experiencing minor complications following a recent knee surgery, a university spokesman confirmed. K-State assistant sports information director Tom Gilbert said Martin was treated for blood clots that stemmed from complications following a recent knee surgery. Gilbert said he and Martin exchanged text messages earlier Sunday, and the fourth-year coach indicated he was resting comfortably."
Topeka Capital-Journal
GH: I first learned that something unusual was happening with Frank Martin Sunday night when it was mentioned on Twitter that Jack Harry had a story about Martin he would reveal on his KSHB TV-41 Sunday night sportscast. No facts were revealed but the tease was definitely in place. Harry then tweeted that Martin had been treated at a hospital and was on "house arrest." I chuckled knowing that Harry had most likely either mistyped or been the victim of the bane of Twitter users – the notorious auto-correct feature in many software programs. Martin though may not have been chuckling having been left to explain why he had been "arrested."
"Duke misspelled PJ Hairston's name? That's probably why Coach K recruited me. He probably thought he was recruiting Bias instead."
Jay Bilas, Twitter
GH: Bilas is one of the more entertaining people I follow on Twitter. I suggest you add him to your list of those you are following.
"Stunner: WHB & KCSP tie in latest radio ratings."
John Landsberg, of BottomLineCom.com, link:

http://t.co/plb0Z2E


GH: I was not quite as stunned. 610 Sports' ratings have spiked the last three Aprils once the Royals' season begins…only to fall back to previous numbers as the Royals season wears on.
"4-5 day games in 1 month = huge PMD bump. It NEVER lasts. Plus the rah rah meetings/emails are annoying and make people look dumb."
Chris Hamblin, former afternoon drive host on 610 Sports, on the station's ratings boost in April, Twitter
GH: I think even 610 understands they have much work to do to close the gap between them and 810. The bigger question is why haven't they been able to transfer those Royals' listeners into daily customers of their all-sports programming? My first answer would be a lack of talent. While Fescoe and Wright have loyal followings, neither has the mass appeal necessary to combat the familiar and consistent product being produced by St. John, Petro and Kietzman at 810.