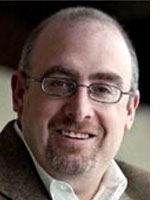 "I still love Kansas City. I love it in ways I never could have imagined that day Dinn (Mann) picked me up at the airport. What do you think? Now I know what I think. I have lived here longer than any other place. I know this place, know its rhythms, know its flaws, know its music. When my flight lands at KCI, I feel that thing Tom Sorensen talks about. I feel Home. Capital letters: Home. And … now we're moving. Well, you didn't think that I would write all this if we were staying, did you? We are moving to Charlotte, N.C. for many reasons, personal and professional — it is the right thing for us…"
Joe Posnanski, announcing his family's move to Charlotte in Wednesday's Kansas City Star
GH: I have a unique perspective of JoPo's time here in Kansas City if only from the fact I was writing for The Star when Joe was hired. While he hasn't written for The Star as a fulltime columnist for almost two years, it speaks to his following in Kansas City that his decision to move to Charlotte would rate a column in his former newspaper. I have compiled here some thoughts of JoPo and my memories of his time with The Star.
·
Dinn Mann hired JoPo in October 1996 after reviewing a number of candidates to pair with Jason Whitlock. Jonathan Rand and Gib Twyman had been The Star's sports columnist for years and a change to a younger, more dynamic pairing was needed. Mann showed me a column that JoPo had submitted for his interview process and asked my opinion. I remember that the column went off on a tangent that included a story about JoPo's grandfather or uncle who instead of adding milk to his cereal, instead used water. Dinn asked me what I thought. "I thought it was weird," was my reply. "Me too," said Dinn. "I think he's the guy."
·
Unlike Whitlock, JoPo was not an immediate sensation at The Star. Whitlock hit the paper like a West-Kansas tornado. His columns hurtled conventional wisdom, traditional ideas and common courtesy about like Auntie Em's barn and Toto too. And the readers of The Star LOVED him for it, at least those that didn't hate him for it. But everybody was reading him and asking the same thing – "Did you read Whitlock this morning?" JoPo, not so much in the beginning.
·
The first problem JoPo had was his name. While the word Posnanski rolls off our tongues easily now, it was not so easy to pronounce or remember back in 1996. His columns were somewhat weird and safe. But there was no doubt he could write. Dinn Mann hired him because he was a writer. And since he was Mann's hire – while Whitlock was not – Man wanted him to succeed. This caused a number of problems between Mann, Whitlock and Posnanski – which I'll get to later. But getting Posnanski marketed to his new audience was a challenge. I suggested giving him a nickname. Joeski was my first attempt. Whitlock liked it. Mann, not so much. I didn't start referring to him as JoPo until 1999 when I moved my Off The Couch column online to sportswaves.com. His JoPo nickname stuck and is used often by almost everyone but Joe. I don't think Joe likes that JoPo originated with me and my OTC – a frequent critic of his writing.
·
Just like when a new AD or GM gets hired , a new sports editor is eager for his new hires to be successful – even at the expense of the stars who were already in place. This is the uncomfortable situation JoPo was thrust into with Whitlock and Dinn Mann. Whitlock almost immediately distrusted Mann and saw his actions as being detrimental to his success in an effort to promote JoPo. Some of this was Whitlock's paranoia and some of it was what was actually happening. I don't think Mann intentionally wanted JW to fail (as Jason surmised) but I do think he thought Posnanski was the more skillful writer and a better fit for the all-important awards bestowed on newspapers by other newspapers. Mann proved correct. JoPo went on to be one of the more decorated writers in the history of The Star. Whitlock won the popular vote from the readers but rarely the nod from those in the industry. Jason kind of enjoyed being the outsider with the bigger paycheck.
·
JoPo went into radio in 1999 just when newspaper people were starting to dip their toe into other media outlets. It was unheard of before the late 90s for newspaper people to be seen or heard on television or radio. Newspapers treated those unwashed media outlets like professional soccer in the '90s. When Entercom attempted to compete with 810 all-sports radio station, they hired JoPo as one of their names to take on Kevin Kietzman and Whitlock on WHB's powerful new signal. JoPo was awful on the radio and he knew it. He quickly resigned and moved back into his comfort zone of writing. Not many people are willing to so publicly admit their limitations as JoPo was when it came to radio. Whitlock was a disaster on Channel 9 when he began his stale and stammering Sunday night segments. But Jason was used to being laughed at and critiqued. He plowed through it and improved. JoPo was not so willing to be so publicly bad at this new medium.
·
I have no relationship with either Whitlock or JoPo today. Haven't talked to either in over 10 years. From what I can tell they have a formal friendly relationship with each other that distance has only improved. Both have become very successful alums of The Kansas City Star. And both are still young guys at the age of 47 or so. It will be interesting to see where they go and what happens to both in the next decade. Are they ascending players in the media world or descending? It will be fun to watch from here, a place both once called home.