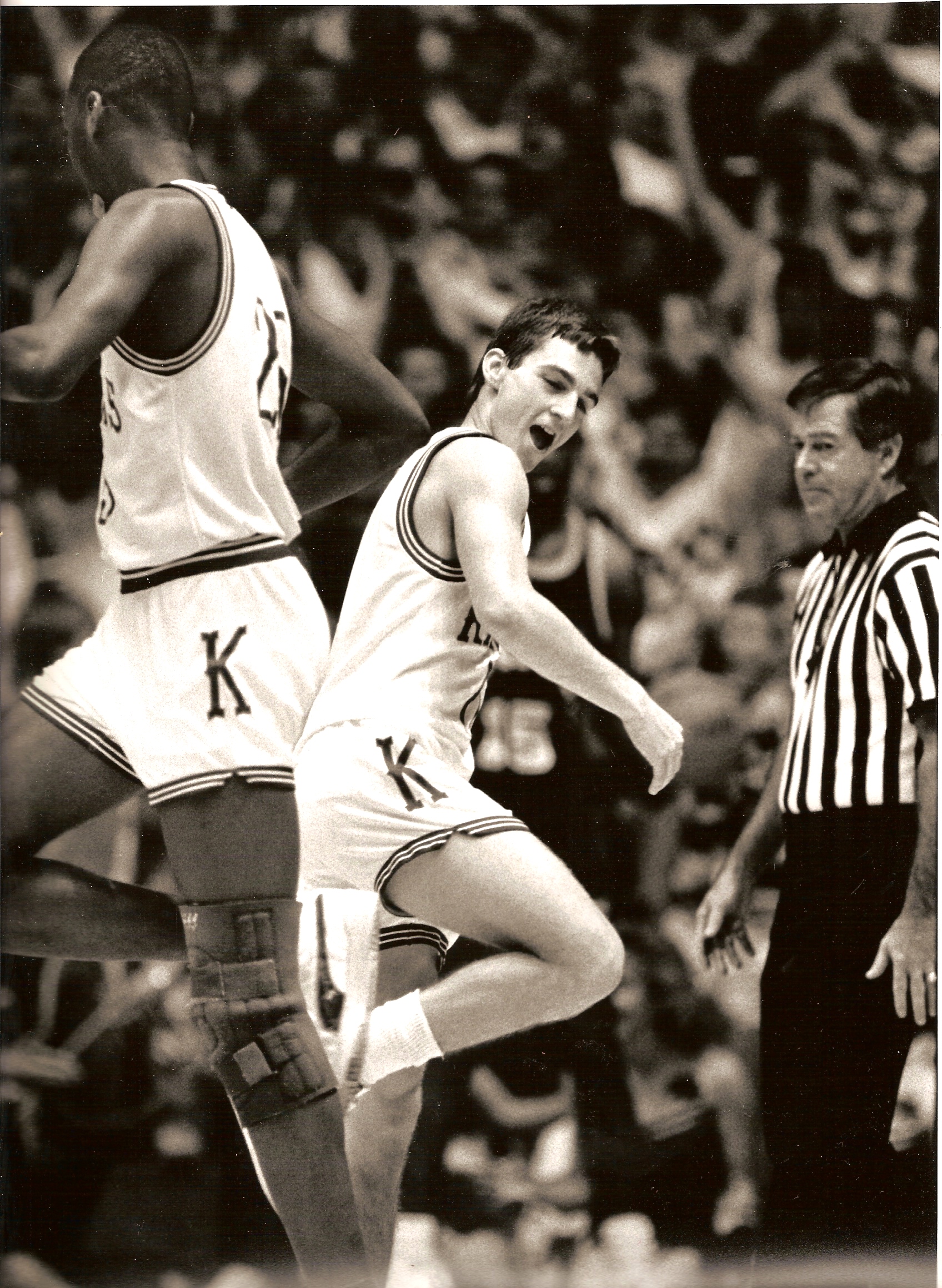 "Aggies: Thanks for a great 4 years. I was proud to represent Texas A&M University. It is truly a special and classy place."
Mark Turgeon, in a message to the TAMU fan base after resigning to take the Maryland job, Twitter
GH: The college basketball coaching carousel got another hard tug when Gary Williams resigned from Maryland and Mark Turgeon bolted A&M to replace him. Will the Topeka kid be a success in the ACC? Read on.
"(Mark Turgeon) wasn't (Maryland's) first choice. They went through like five guys apparently."
Todd Leabo, 810 AM
GH: Maryland looked at high-profile candidates before "settling" for Turgeon. This is not a hire that will cause season ticket sales to spike in Terp territory but one I think will prove to be successful. Not everyone agrees.
"If Maryland's inability to land (Arizona's) Sean Miller as its basketball coach can be analogized to an open layup that was blown over the rim, how best to describe the Terps' decision to hire Mark Turgeon? One might say it's like shooting at the other team's goal. Pursuing Miller was the right idea but horribly executed."
Mike DeCourcy, SportingNews.com
GH: DeCourcy must know some inside info on how Maryland went about courting and eventually blowing their shot at Sean Miller. He will be on 810's Border Patrol Wednesday to discuss it.
"Hiring Turgeon away from Texas A&M was well executed by Maryland athletic director Kevin Anderson, but he missed the target by a lot. It's hard to find anyone to say a bad word about Turgeon, and it doesn't feel so great right here, right now. …Is he the ideal fit for this job, though? Not even close."
Mike DeCourcy, SportingNews.com
GH: Turgeon's deliberate style of play may not play well to Terp fans who have watched the blurring speed of the athletic ACC. Coach Roy doesn't teach defense, he teaches outscore the other guys and run them into the dust. Turgeon teaches defense and boring but winning basketball. Will the wins be enough to appease Terp fans?
"Given the high-profile names floated throughout this remarkably quick coaching search … you might be willing to forgive Maryland fans if they react to tonight's news with a collective 'Who?' They shouldn't. In the end, Anderson didn't just move quickly. He didn't just shoot for the splashy name.

In landing Texas A&M coach Mark Turgeon

, Anderson did something vastly more important: He made a high-quality hire. … Still, there's no other way to put it: Turgeon does not qualify as a sexy hire."
Eamonn Brennan, writer, ESPN.com
GH: Turgeon is about as sexy as his surname and hometown of Topeka. He is a plugger. He outworks people. He isn't sexy, he's annoying. His teams annoy you to death.
"Just got off phone with Mark Turgeon: 'It was a very tough decision. Probably my best team coming back. So hard to say goodbye to players.'"
Jeff Goodman, Fox, Twitter
GH: Most analyst have A&M in the preseason Top 20. Who gets to waltz into that job?
"I think (Tim Floyd) would take (the A&M job) in a heartbeat. If I'm Tim Floyd I might wait around because no one really cares (about basketball at A&M)."
Greg Gurley, 810 AM
GH: The name that keeps popping up in my head is Bruce Pearl. He has more baggage than Southwest but he is one guy who might be able to ignite a passion for hoops in College Station. I'd hire him today.
"I think that (success at Maryland) on his resume would be better than at Texas A&M. We're talking about things that are so far out there, and I don't see them happening."
Greg Gurley, when asked by Soren Petro is having success at Maryland rather than A&M would improve Turgeon's chances of eventually becoming the head coach at Kansas, 810 AM
GH: Kansas would prefer to hire Bill Self's replacement from Maryland rather than a Big 12 school like A&M. But I'm with Gurley – none of this matters now or probably in the future.
"Mark Turgeon is a great hire for Maryland. Played against him in college and he's an outstanding coach. Turgeon will win in College Park."
Jay Bilas, Twitter
GH: Turgeon also played against Bill Self. I always think of Turgeon being younger than his 46 years.
"A&M has no coach and Billy Gillespie kicked a door and broke a toe. You don't think he'd rather be at A&M than Texas Tech?"
Soren Petro, 810 AM
GH: I don't think A&M would double dip on Billy G. even if he was still available. I do think Gillespie jumped too soon at the TT job. He could have been wearing Missouri black & gold if he would have waited a week or two.
"What I can tell you about James Franklin is that he is the nicest most polite young man you will ever meet in your life. If he gets sacked, he might congratulate the guy who sacked him. Hopefully not but he's that nice."
Eric Blumberg, of Columbia KOMU TV, on Mizzou's leading candidate for the starting QB job, 810 AM
GH: I think back to some of the sacks Nebraska's Blackshirts have laid on MU quarterbacks the past few years and I don't think Franklin would have any trouble losing some of his niceness after one of those hits.
"Having Gabbert leave could prove to be good for James Franklin and Missouri."
Steven St. John, 810 AM
GH: This defines Gary Pinkel's QB and offensive leader now rather than in August. Franklin has the deepest and most-talented corps of receivers returning in the Pinkel era. The offensive line should also be the best under Pinkel. Nebraska is gone. The Tiger fans are very eager for this football season to begin.
"If we disregard Kyle Davies they'll be 29 teams standing in line for him. Trust me on that."
Dayton Moore, on the weakest starter in the Royals less-than-impressive starting rotation, 810 AM
GH: Davies gets the start tonight in the Royals' series opener at Yankees Stadium. It is a pitching matchup nightmare for the Royals where they will face the Yankees' Freddy Garcia. I would much prefer to see that line forming for Davies and Danny Duffy wearing a KC cap.
"If the Royals released Kyle Davies today, some other team would pick him up. I think they would (make him a starter)."
Mark Carman, 610 AM
GH: Hopefully the Twins.
"When I came up nobody had ever heard of me. I was scared to death. I don't think (Eric Hosmer) was scared at all. I think he was excited."
George Brett, in an interview with Bob Fescoe, 610 Sports
GH: I didn't get this quote from Brett verbatim since I was jogging at the time. But it's close. It is obvious that Brett thinks Hosmer is the real deal.
"If an opponent has an injury, you exploit it."
Mike Golic, saying the Celtics' Rajon Rondo's injured left elbow is fair game for the Miami Heat players to bump and go after, ESPN Radio
GH: Greenie disagreed with Golic in that he thought it unsportsmanlike to intentionally go after a competitor's injury in an effort to make it worse. I always tried to use an opponent's injury to my favor – no matter the sport. On game day it is about winning. Nice is for the postgame handshakes.
"Clones, if you're not getting the show; call and email your affiliate and let them know you feel about it. Hit it hard."
Jim Rome, Twitter
GH: Rome's tweets of late smell of desperation. Is his repetitive shtick starting to wear off? Or maybe his clones have found gainful employment in the improving economy? Whatever the reason, Jim Rome appears to be burning…and not in a good way.