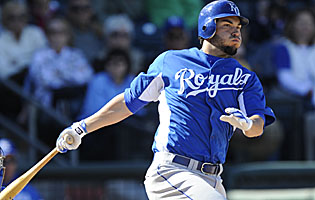 "He's ready. It's as simple as that. He's in a league of his own. … The kid's producing down there. The time's right. He's comin'."
Ned Yost, 810 AM
GH: I heard the Royals' manager utter these words live on Sports Radio 810 as I flipped on my car radio while dodging ominous thunderstorm clouds moving in swiftly from the southwest about 4:30 PM Thursday. Did he just say Eric Hosmer is comin'? I cranked the volume knob into double digits and smiled as my pulse and imagination began to run wild.
"Homers called up."
Joel Goldberg, FSRoyals sideline reporter, Twitter
GH: Goldberg later corrected his misspelled tweet but I kinda liked the original version.
"The kid can hit. The kid's gonna be a superb player in the American League."
Ned Yost, 810 AM
GH: Not all Royals' fans know Hosmer or what this means. Some have stopped me today and asked why my Twitter tweets have been so effusive about the Royals bringing up a rookie for his first look at big-league pitching. What has me so jacked up is that this move is so un-Royals like. The David Glass-owned Royals never go for it. They always do what's right for the pocketbook. Winning has always been secondary – if that. This move is what real teams in real pennant races do. Damn right I'm jacked!
"Third evaluator on Hosmer: 'Prodigious power potential offensively and cat- like quickness patrolling 1st base defensively.'"
Buster Olney, ESPN MLB analyst, Twitter
"Super 2 be damned!"
Steven St. John, 810 AM
GH: By bringing up Hosmer now, the move could cost the Royals a few more million sooner rather than later. This is why no one thought we would see any of the Royals' young prospect before June. With a total payroll this season around $36 million, it sure is encouraging to see the Royals do something that might not make monetary sense in the long run.
"For all the excitement about Hosmer's call-up, don't miss the key point: the Royals are going for it now. You know what? I don't blame them."
Rany Jazayerli, of RanyontheRoyals.com, Twitter
"This is a very important message to the fans. Making the move to bring up Hosmer now is a gigantic message to the fans that we're about to take a shot at this thing this year!"
Kevin Kietzman, 810 AM
GH: Amen. This is the biggest take away from this move – the Royals think they have a shot to win the ALC THIS season. Kila was killing them at first base and Hosmer was hitting like Mike Tyson in Omaha. As easy as the move appears on the outside, it is a move the Royals have almost always chosen not to make in the past. Not everyone agrees. Read on.
"I don't know how much that plays into it. Even if the Royals had only won 10 games I think they would have been forced to bring up Eric Hosmer. I guess you could factor in partially that the Royals are playing well."
Robert Ford, when asked Nick Wright if this move signifies that the Royals are now in it to win it, 610 AM
GH: I could not disagree with Ford more. But there are a number of problems I have with 610 Sports coverage of the breaking news on Hosmer's promotion. The first being they missed having it live on their radio station. Read on.
"You heard it exclusively live right here on Sports Radio 810. We got it first and we got it live!"
Kevin Kietzman, 810 AM
GH: KK dropped this liner a number of times following Ned Yost's postgame presser where he announced to the media Hosmer was on his way to KC and would be starting at first base on Friday. He was able to do this since 610, the flagship station of the Royals, were again saddled with a contract that forces them to air the Royals' commercial-filled crapola network postgame show. I switched over to 610 a half dozen times during Yost's presser and each time I was greeted with a different commercial. While 810 broke the news to Kansas City that Hosmer was on his way, 610 was selling us another reason to hire our local metal workers' union laborers.
"If the guy's called up today, Robert, can we expect to see him play tomorrow?"
Nick Wright, to Robert Ford, on 610's Royals' postgame show, 610 AM
GH: Ouch. Wright is supposed to be 610 Sports lead sports talk analyst, commentator and personality. When he asks for information the majority of his audience knows, he loses credibility…and listeners…and ratings. I guess things could be going worse for 610 Sports but I'm not sure how.
"The Cardinals beat the Marlins 6-3."
Robert Ford, at 5:03 PM Thursday on 610 Sports
GH: I intentionally tuned into 610 Sports to hear how they would debut their 5:00 PM hour. People were just getting into their cars from work and many probably unaware of the shocking news that Hoss was on his way. I got Robert Ford reading me MLB scores. It is almost as if Kevin Kietzman is pulling the strings at 610. I guess things could be going worse for 610 Sports but I'm not sure how.
"I think he'll back behind Butler and in front of Francoeur. That way you give Butler some protection and protect Hosmer at the same time. Nobody in the league is hitting better than Francoeur right now. It's a lot easier to hit when they have to pitch to you."
George Brett, in an interview with Bob Fescoe, 610 AM
GH: Yost will post his lineup soon and it will be interesting to see where he bats Hosmer. I like Brett's idea of protecting the rookie with Francoeur. This team was fun to follow before Hosmer. Now they're gotta-see stuff.
"I've described him as having Gold-Glove caliber potential at first base. He moves well around the bag and is extremely athletic."
Robert Ford, 610 AM
GH: When was the last time we had an athletic first basemen in his prime? Wally Joiner was smooth but well past ripe. The Royals have typically tossed any large, soft-bodied catcher-like human down at first and simply hoped booted ground ball didn't ricochet too far from the bag. To have a defensive stopper with a .439 batting average at first is the stuff pennant races are made of.
"There's plenty more on the way. Mike Montgomery will probably be up soon, followed by Danny Duffy, strengthening a rotation that happens to be this team's biggest current need."
Sam Mellinger, Kansas City Star
GH: Some fans are contacting me and they are withholding their excitement over the Royals until the starting rotation is fixed. Understandable. But I choose to take the plunge now and risk drowning in a big blue sea.
"Don't count on the kid to come in and save this team. … That being said, there are guys who come up and immediately rake and make a significant impact. While I caution Royals fans to not expect that, it sure as hell is overdue."
Soren Petro, 810 AM
"We're not blowing this up quite as big as you but I will tell you that as you drive past on I-70 you will see that we have replaced the KC (on the back of the video board) with EH."
Toby Cook, Royals VP, in an interview with Bob Fescoe, 610 AM
GH: Cook of course was kidding but it is great to hear some childish glee coming from inside the Royals camp. We all deserve some good days and this is one of the better ones.
"This could be a pretty significant walk-up (crowd) for tonight. We're going to have all the ticket windows available but if we get in the range of 10,000 people it's hard to get out of your car and into the game in time."
Toby Cook, 610 AM
GH: Anybody who has ever bought a walk-up ticket at a crowded Royals' game knows how painfully slow those ticket lines move outside The K. I swear the Royals have adopted Wal-Mart's weekend checkout strategy – keep them in line long enough and they'll buy some more of this crap we've surrounded them with. But your ticket online and print it out at work or home. Going to the game w/o a ticket tonight will be a nightmare. I will be at my son's Big 6 Conference track meet in Blue Springs so I'll be relying on Denny and Davis to paint the picture of Hosmer Night at The K … Oh yeah, and Twitter.