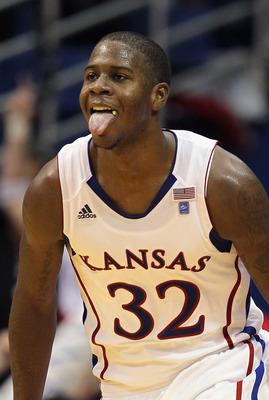 "Just don't strike out, Alex."
Steve Stewart, Royals radio play-by-play, with Alex Gordon up in the seventh Tuesday night with no outs and runners on first and third and the Royals tied with the Twins 3-3, Royals Radio
GH: Gordon went down swinging on the next pitch. Butler and Francoeur also failed to drive in the go-ahead run and the Royals ended up losing the game in the 10th. I am rooting hard for Gordon this spring. He needs to be good and so far he has been. But I just can't see him as the three-hole hitter with his propensity to swing and miss. A professional hitter does not strike out with a man on third and no outs. He simply cannot. Gordon does too often.
"I'm not completely sold on Gordon but I'm convinced he's made some major changes. Because the pitches they used to strike him out on all the time he is now hitting the opposite way for doubles. The guy's playing great defense in left field too!"
Nate Bukaty, 810 AM
GH: No one is completely sold that Gordon is a who we thought he might become. It's only mid-April for starters. But Royals fans desperately want this guy to succeed as much as anyone who has ever worn the blue.
"I hate to say this because I think I have a good relationship with Frank Martin. In a lot of ways he's more of a man's man than I am. But in my opinion the way he's going about this (Miami job) is not a stand-up way to do it."
Nick Wright, 810 AM
GH: This is a strong comment from Wright, knowing how much effort he puts into his relationships with athletes and coaches. It is good to hear he can be objective even with one of his favorites.
"Frank is one of the most interesting people in this area. How many coaches do we have who have been bouncers in Miami? Can you imagine Bill Self bouncing some drunk out of a bar? Can you imagine Mark Turgeon doing that?"
Doug Tucker, 810 AM
GH: Schottenheimer would have made a good bouncer. Norm probably did do some bouncing in his early days. I know I wouldn't have messed with a young Norm down in a Columbia bar. Quin probably GOT bounced from a few places in his day. And we all know Mangino could bounce…
"I think Frank is insecure. He's kind of an insecure guy. All these wonderful things have happened for him and he came from nowhere and nothing and now he's got so much. I think there's always that little voice deep inside his heart telling him, 'Hey Frank, you're just a bouncer. What are doing on the national stage? What are you doing earning all this money? You're just a high school teacher from Miami making $35,000 to coach basketball.' He listens to that voice and I think it keeps him feeling kind of humble."
Doug Tucker
, 810 AM
GH: I think anyone who overreacts like Frank does on the bench has to have some insecurity demons nipping at his ego. It is very unattractive on a guy who has so much.
"If I have one criticism of Frank (Martin), I wish Frank would learn to have thicker skin."
Doug Tucker, who showed Tucker a two-year-old column where a Chicago writer criticized K-State for hiring Martin, 810 AM
GH: I have been writing about the media and sports since 1994. In that time my biggest surprise is how thin-skinned most people who make their living in the public forum are when it comes to dealing with criticism. It has been my experience that the media is far more sensitive to public critique than sports figures. I always thought the media would be better prepared and more understanding that their work deserved to be evaluated. That is definitely not the case.
"(Frank Martin) told me a couple of months ago he thought he'd be better next year than he was this year."
Kevin Kietzman, 810 AM
GH: Interesting. The Big 12 may not be as top-heavy in 2012 but it will be far deeper. The Mayor and Iowa State are building the next K-State up there in Ames.
"Back in the days when you were with Channel 4, you more than anybody else in the media would ask the tough questions (in the Chiefs locker room). That was the toughest clubhouse I ever had to deal with. I could always count on Kevin to ask a tough question and if my microphone happened to be there to catch the answer, well…"
Doug Tucker, 810 AM
GH: Kietzman was a helluva reporter at Fox 4. He was third string but he made my OTC column in The Star regularly with his work for Frank Boal at that time. Easy to forget that he was a frontline guy for many years now that he's safe behind the glass.
"They're the best team in baseball. Every night, depending who is playing, you have guys sitting on the bench who could hit three, four and five in any other lineup. This is a team that has got so much talent in so many areas and so many rising stars and players in their prime; they are seriously the next great team in baseball."
Jason Stark, on the Texas Rangers, ESPN MLB analyst, 810 AM
GH: Wow. Maybe the same thing can happen to the Royals who share Surprise, Arizona with the meteoric Rangers. How sweet would it be to hear these words breathed on our men in Blue?
"To a man to a woman to a child, no one seems to be upset that Josh Selby won't be back next season. The way KU fans love their guys, Josh Selby never, ever, ever fit into the Kansas family. I never saw Josh Selby be accepted into the Kansas family by the fans."
Bob Fescoe, 610 AM
GH: I listened to Fescoe rip Selby on Tuesday morning and actually felt bad for the player. What did Selby do to Fescoe or Kansas to deserve this? Read on.
"There's a good opportunity that we may never see Josh Selby in Lawrence again. He may send a U-Haul for his things. He will always be remembered as a guy who used Kansas because he had nowhere else to go for a year. So he just came here and kinda hung out for a while. He served his suspension, has a foot injury, never really took off and that was that. He came here because he had to, not because he wanted to be here. I think that's what Kansas fans resent the most."
Bob Fescoe, 610 AM
GH: Why resent a kid for picking your school? Doesn't every basketball player have to attend some school to play college ball? Fescoe sounds bitter and immature. In other words he is shooting par.
"Talking to the (Kansas players) last night, you could tell they really didn't have that great of a relationship with Selby.
Bob Fescoe, 610 AM
GH: This shot was below the belt and I would venture to say false. Following the KU players on Twitter all season, they all seemed to get along with Selby great.
"I can't believe (Josh Selby) has knowledgeable people telling him he's going to be a lottery pick. To me he seems like a kid who needs constant supervision and constant coaching. To me he's so young he just needs to have his hand held. If he leaves he's not going to get that."
Kevin Harlan, 810 AM
GH: Two words for Selby and his draft decision: JaRon Rush.
"You don't like to see guys getting dry humped down there (in the bullpen) and not getting into the game."
Jaime Bluma, former Royals pitcher, on the Royals bullpen, specifically pitchers getting ready but not getting into the game, 810 AM
GH: I believe that is the first time I've heard "dry humped" referenced since high school. I think the metaphor works.