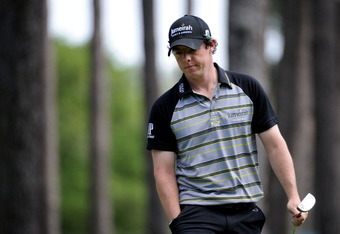 "Rory McIlroy is too good not to bounce back. But that trainwreck on Amen Corner is going to leave a nasty scar. 1 you can't sandblast off."
Jim Rome, after the 21-year-old McIlroy went Greg Norman circa 1995 on the backside at Augusta and blew his 4-stroke Sunday lead into an 80 and finished tied for 15th, Twitter
GH: Rory's meltdown was Chernobyl-like..only quicker. One moment he's leading The Masters and the next he's in some side yard along an Augusta cabin sizing up his second shot from a place we have never seen before. You had to feel for the kid as his wheels came off and his chance at the jacket disintegrated with his swing. He only imploded for three holes, but it seemed like 10. I agree with Rome, he'll bounce back and have a great career. But no one will forget his ugly fall from the leader board.
"Lots of junior prom putts for Tiger yesterday…all lip, no hole."
JFish26, on Tiger Woods' close-but-no-jacket Sunday at Augusta, Message board on KUsports.com
GH: Tiger gave us all reason to stop mowing the lawn and pay attention again to the greatest golf tourney on American soil. Even those who hate Tiger had reason again to root against him. He battled from 7 back to share the lead but his putter could not sustain his charge. He will be fun to follow as he takes on the tree remaining majors.
"These (PGA) golf wives are something to behold. It's not even close (to what pro sport has the hottest wives). And the gallery at the Masters, there's more to look at than the azaleas!"
J. Brady McCollough, who covered The Masters for the KC Star, talking to Bob Fescoe Monday after the Masters, after multiple close ups of Jason Day's wife caused a stir on Twitter from those watching The Masters on CBS, 610 AM
GH: The CBS cameras and Twitter have made Jason Day's wife more famous than Jason Day. And we never even got much of a look at anything but her face and those huge sunglasses. She is an Ohio girl but it seems everything blooms better in the south.
"Ladies, if you're in the market for middle aged white dudes, coming off a week long bender, Augusta airport
on Monday
after Masters is for u."
Scott Van Pelt, Twitter
"Bad enough no women members at Augusta. But not allowing me to join writers in locker room interview is just wrong."
Tara Sullivan, columnist for the Bergen Record of New Jersey, after she was denied access to Augusta's locker room following The Masters, Twitter
GH: Here is where Twitter again can be immediate but wrong. When Sullivan sent out her tweet she was upset at The Masters management because she thought this was their policy. Later she discovered it was merely a rogue female security guard who decided to keep her out of the locker room. Read on.
"It was a complete misunderstanding by a security guard. Our policies fall in line with all of those of major sporting events in that she should have been rightfully allowed access to our locker room. … That was a misunderstanding by that particular security guard. … We offer our apology. It should not have happened, and that's not our policy whatsoever. … When you hire this many people, miscommunication does take place."
Steve Ethun, director of communications for the Masters, USA Today
GH: Sullivan detailed the happenings in her Monday column but her tweet sparked an firestorm of bad press for The Masters and their female-hating ways. Turns out it was pretty much a non-incident.
"The

Royals

have now won 2 series, split the other, and been competitive in every game they've played this season."
Danny Parkins, Twitter
GH: The Royals are 6-3 with an off day today. Do not wake me. I am enjoying this mirage.
"(Joaquin Soria) is in the middle part of the plate a lot. I don't think it's a health issue. I think sometimes you get a little bit complacent. Sometimes you feel almost bulletproof out there because you've had so much success and gotten the job done by pitching in the middle part of the plate. You probably shouldn't have as many times as you do. But if you're not down in the middle part of the plate, you're going to get hurt. I don't see anything that concerns me that he's going to have good stuff going on throughout the season."
Jeff Montgomery, on the Royals' closer's last two rough outings, 810 AM
GH: I am going to be watching Soria. Let's hope he heats up with the weather. Let's also hope we have a lot more reasons to have to require his services.
"(The Royals) are not contenders but I don't think they're pretenders either."
Danny Parkins, 610 Sports
GH: Parkins is Shan Shariff's replacement from 9-11 AM on 610 Sports. So far he is a positive. His voice is good, his intelligence appears high and his rationale sound. He's kind of like the Bizzaro Fescoe.
"I'm finding it much easier to keep my expectations in check this year as opposed to 2003. Regardless of what happens this season, we know we have something much better to look forward to. This might be the worst Royals team for the next eight or nine years."
Rany Jazayerli, of Ranyontheroyals.com, talking to Steven St. John and Nate Bukaty, 810 AM
"The problem w/ these lockout economic studies, is that many people will simply spend their $ on something else, not just not spend it."
@ArrowheadPride, on a study by the Pittsburgh Gazette that predicts an NFL lockout will have a large negative economic effect on NFL cities, Twitter
GH: I agree. People don't stop spending money just because you take their favorite toy away. They just go find another toy.
"If Frank Martin leaves (for Miami), he will be remembered by K-State fans as one of the all-time guys who misled a fan base. He talked about loyal, loyal, loyal over and over. I don't think Frank Martin's going anywhere. I really don't. From everything Frank martin's told me, he's found his paradise in Manhattan."
Kevin Kietzman, 810 AM
GH: No news on Martin or Miami. The watch continues. What will come first? Miami hires an AD or a basketball coach? One will probably very closely follow the other.