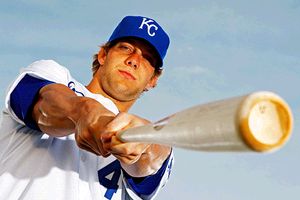 "This has got to be it. This is his time. He knows it. … His confidence right now is probably as high as its ever been since I've been here. We're getting him looser with his upper body, doing pretty much a solid month of drill work, just the tension out of his upper body and really focusing him being more consistent in his approach. His hands are working better. His swing is much better. Now it's just going to be seeing how consistent he can be once the game starts."
Kevin Seitzer, Royals hitting coach, on Alex Gordon prior to the start of the season, Lincoln Journal Star
GH: Gordon could not of had a much worse outing on opening day when he went 0-5 with three Ks and struck out in his final at bat with the game on the line. Almost everyone, including me, had given up on the one-time top prospect from Nebraska. His second game wasn't much better, again striking out with men in scoring position. But then something happened. He started to hit. He started to look comfortable. Tuesday night against the White Sox he looked down right cocky at the plate! Read on.
"You can really tell the difference how (Alex Gordon) stays back in his stance and his front side stays closed longer."
Mike Boddicker, in the Royals' surprising fast start, 810 AM
GH: Boddicker's comment might be a bit too inside baseball for some but anyone who has struggled at the plate understands keeping that lead shoulder closed and keeping your weight back in the box. I hit everything off my front foot – which is why I was a singles hitter and still can't drive a golf ball much over 200 yards. Gordon looks as comfortable right now as he did back when he was in Lincoln getting five hits against Creighton.
"He's been putting on shows in batting practice. Granted, it's only been batting practice, but his swing looks different. He looks much, much better. The real judge will be in the games when you're making adjustments off competitive pitching. It looks like the work is paying off for him. It's just smoothing his swing out more than anything else, really just getting him short and just getting him to stay behind the ball and drive the ball"
Ned Yost, on Alex Gordon, prior to the season, Lincoln Journal Star
GH: When I initially read Yost's quotes, I chalked it up to just more Gordon hype. We had all heard much of the same before. But maybe…just maybe things are different this time.
"Still not getting on that Alex Gordon wagon."
Carrington Harrison, of 610 Sports, Twitter
GH: Wagon? A-God is driving a 2011 Ferrari, baby!
"It was 4-0 before an out was recorded last night."
Steven St. John, on the battering Luke Hochevar took in the top of the first from the White Sox, 810 AM
GH: I will admit, I had one foot out of the Ferrari and the other foot trailing after that first half inning last night.
"If everything plays out like we're hoping, this could be fun for awhile."
Mike Boddicker, in the Royals' surprising fast start, 810 AM
GH: Watching the Royals game last night and following the comments on Twitter, made for a fun night. If you're not on Twitter, give it a go. Just sign up, look me up at @greghall24 and follow a handful of the folks I follow. You'll get the gist of it soon enough. It is the 2011 version of the neighborhood sports bar.
"12,000 fans were at The K (Tuesday) night. The Royals are 4-1. What's it going to take for you to buy into this team?"
Bob Fescoe, 610 AM
GH: Getting 12,000 fans to The K in early April on a Tuesday night in Kansas City is a GREAT crowd. Too many members of the media judge the attendance by the number of empty seats. This ball park was built to house big weekend summer crowds – which it often does. But expecting 30K on a school night in April is ridiculous. This ain't NYC, Boston or Chicago. We have 1.5 million people, not 8 million.
"Soria said that if you've got less than a year in the big leagues you're going to go mohawks. So we all got mohawks.
Tim Collins, Royals rookie reliever, when asked by Bob Fescoe why most of the Royals bullpen are sporting faux hawks, 610 AM
GH: Collins sounded like he didn't know the difference between a faux and a mo but his story was a good one. Nice to know Soria is ruling the pen out in left like a Mexican barber/dictator.
"I know where every Wal-Mart is in every minor league town. When I can't sleep at night I just go walk to the local Wal-Mart. People say that's weird and stuff but so what. There are some interesting people walking around Wal-Mart."
Danny Duffy, Royals pitching prospect, in an interview with Soren Petro, 810 AM
GH: We need to get Wal-Mart Danny up to Kansas City pronto. We of course need his arm in the starting rotation but also anybody who is surfing Wal-Marts at 3 AM should not be left to his own devices in Omaha.