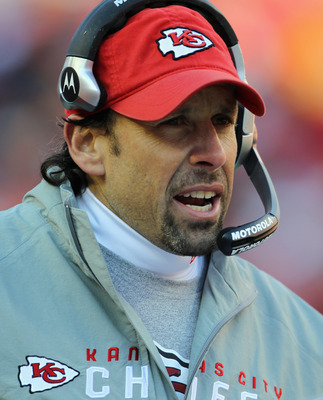 "I think a lot of these (Chiefs) players still don't like playing for Todd Haley. He's an abrasive guy but winning is a nice salve…. I think this – if this team was losing games, I think this is the kind of locker room the way they operate that could fall apart quickly."
Todd Leabo, 810 AM
GH: A lot of successful football coaches do not have a friendly or even civil relationship with their players. Watch Lombardi's documentary on HBO and you get the feeling his players feared him but didn't love him while they played for him. That kind of respect comes well after the winning. Some of my favorite coaches were bastards when I played for them. Football cannot be compared to real life.
"I don't think Todd Haley is ever going to win some kind of poll in the league that people like to play for him. But that's not going to matter if you continue to win games."
Danny Clinkscale, 810 AM
"This (AFC West) division next year could be amongst the best in football."
Kevin Harlan, 810 AM
GH: Haley will get his chance next season to prove he is more than a product of an easy schedule and a weak division. I am not sold that his way is the best way but he has proven he can take a downtrodden franchise and make it a division champion in only two seasons. I think that is well worth a nod even from his most ardent critics.
"Todd Haley is a different guy than I see out at Arrowhead and the press conferences."
Shan Shariff, 610 AM
GH: He is definitely a hairy guy. What is with the Justin Bieber locks? Add that to his sweat-stained ball cap and Haley fits right in with a number of my relatives driving tractors in northwest Missouri. Wonder if he likes Copenhagen and deer jerky too?
"I always saw (Todd Haley's dad, Dick) driving down the street in a brand-new convertible with the prettiest girl in that right-hand seat. I always said, 'When I grow up I want to be just like Dick Haley.' "
Marty Schottenheimer, recalling how he admired Todd Haley's father when he played for the Steelers, 610 AM
GH: Some patrons at Tanner's think you did just that, Marty.
"We saw that from Matt Cassel last week (against the Raiders). There was kind of an aw-shucks-I-give-up attitude after (Cassel) got slung around like a ragdoll. Champions cannot do that."
Kevin Kietzman, 810 AM
GH: I didn't see Cassel or the Chiefs give up against the Raiders. I saw them get walloped. Any other description is an excuse.
"Our relationship continues to grow and the team just believes in coach (Haley) and what he's doing here."
Matt Cassel, Showtime's Inside the NFL
GH: For a guy who supposedly hates Haley, Cassel sure seems to understand how it works. It's the media that seems a bit confused that football players and coaches just don't always get along.
"The Chiefs have created a culture out there where you have to question everything. I'm not buying it (that Dwayne Bowe was sick Wednesday)."
Bob Fescoe, 810 AM
GH: At least we know sports talk radio would never mislead its audience.
"I don't think there is any pressure on the Chiefs. All the pressure is on Baltimore. I think they are going to play very loosely."
Kevin Harlan, 810 AM
"It's really only fun to be in the playoffs if you think your team has a chance to win – even if they win. If you're going to go through the playoffs like that, why are you even a fan?"
Kevin Kietzman, 810 AM
GH: So does this mean KK hates the Royals – the pro franchise in town that does not have a deal with his radio station and who he constantly speaks negatively about. Fans can think, act and do whatever they want. It's one of the few perks of being the part of this equation that pays the bills.
"I'm doing the (Ravens/Chiefs) game on radio. That's one of the perks about being the lead guy. I got to pick. You know I've been on the road every weekend since August. I need a weekend at home. It's part of my deal that I can pick. I'm excited for this game."
Kevin Harlan, who lives in Mission Hills, 810 AM
GH: Harlan doing play-by-play on the radio is a treat. Not that you'll be listening instead of watching on Sunday but if you find yourself stuck in your car, give his work a listen. He gives more detail and description of a play without appearing rushed better than anyone on the radio today. And he does it with an entertaining enthusiasm that comes off as genuine. I have no doubt Mitch Holthus loves his work but he too often sounds like a carnival barker rather trying to sell me the bearded lady.
"This is one of those safety tandems that if they stay health, can become one of the best safety tandems in NFL history."
Bill Maas, on the Chiefs' Kendrick Lewis and Eric Berry, 610 AM
GH: Our young safeties will get tested by Flacco and his receiving corps. Add Ray Rice to this mix and you can see why a lot of the national pundits are picking the Ravens on the road.
"The Steelers are frauds."
Mel Kiper, Jr., ESPN Radio
GH: Kiper has been down on the Steelers for the past month. He claims their gaudy record is a result of numerous gifts and close calls throughout the season. It will be interesting to see if the playoffs prove him correct.
"I think (Blaine Gabbert will be remembered) as a guy who was good but never lived up (to his expectations). And that's probably due to what we did to him at Rivals making him the number one quarterback out of high school. And he had the misfortune of following the best quarterback in the school's history."
Gabe DeArmond, of PowerMizzou.com, on the Mizzou junior QB who has decided to take his talents to the NFL draft, 810 AM
GH: Gabbert is everything the NFL wants – big, ridiculously strong arm, good character and a winner. I was never a Josh Freeman fan at KSU but he has proven to be a quality NFL starter without much of a learning curve. I expect Gabbert to do very well if he can get with a team that can offer him some protection. He does not possess much poise under duress.
"Smart move for (Blaine Gabbert) but a bad move for anybody who takes him before the third round."
Nick Wright, on the Mizzou quarterback's decision to enter the 2011 NFL draft, 610 AM
"To all the Mizzou fans who are saying you're glad Blaine is leaving, I only have 1 thing to say: you don't know what you're losing."
TJ Moe, Mizzou receiver, Twitter
GH: A surprising number of Tiger fans are okay with Gabbert leaving in that they are high on sophomore-to-be James Franklin. Steven St. John is one of Franklin's biggest supporters. It will be interesting to see if Pinkel can continue his amazing run of replacing each of his great quarterbacks with another stud.
"Blaine is one of the best pure football players I've ever been privileged to be around. He's smart, tough, a great leader and he cares about his teammates and his team more than he does himself. That's exactly why he's going to make a GREAT professional QB. We've been honored to have him play for us for 3 years and it's been an honor for me to suit up in the black and gold with him. We love you Blaine."
TJ Moe, Mizzou receiver, Twitter
GH: Moe is one of the few athletes I follow on Twitter who writes as if he's familiar with the English language. I really like this kid as a receiver, a competitor and as a native Missourian.
"They have hired the 'anti-Lew' at Kansas."
Kevin Kietzman, on the hiring of Sheahon Zenger as Lew Perkins' replacement as the new AD, 810 AM
GH: Zenger graduated from K-State but got his doctorate from KU. He lost out in an earlier bid to get the KSU athletic director's job. He looks squeaky clean but has sounded way, way, too syrupy and Disney his first week for my taste. If he and Turner Gill get together in the same room do unicorns and rainbows pop out of their asses?
"As a Jayhawk, I am forever grateful for how Lew Perkins ran that program."
Bob Fescoe, 610 AM
GH: Fescoe doesn't need anyone to make fun of him. He is a master of his own domain of ignorance.