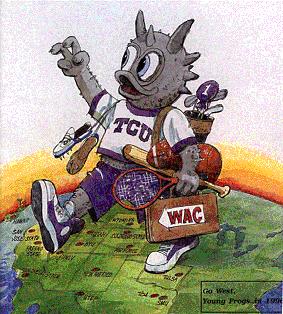 "Texas didn't want TCU in the Big 12 so Dan Beebe didn't invite them. It's that simple, right?"
Nick Wright, 610 AM
"Big 12 has been pretty steadfast in its no-interest stance re: TCU. Not sure why so many fans feel like it missed out on something here."
"TCU was never an option for the Big 12."
Bob Fescoe, after TCU accepted an invitation to join the Big East, 810 AM
GH: Fescoe and Josh Klingler echoed the familiar refrain that the Big 12 doesn't need more schools in the Dallas/Texas market. I would argue that quality football programs no matter what their zip code add power, prestige and money to your conference. I think TCU would have been an exciting addition to the Big 12 on the heels of losing two of its original members. As it is, the Big 12 again resembles a Yugo on the NCAA Autobahn.
"The Big 12 has no interest because it already owns the D-FW area TV market. The gulf between the haves and have-nots continue to widen. The Frogs had to jump."
Kevin Sherrington, columnist, Dallas Morning News
GH: Unfortunately for our local schools, the "have-nots" Sherrington is referring to are Kansas, Kansas State, Iowa State and yes, even Missouri. The Tigers get drug down to the other north schools' depth simply because they reside outside the state of Texas and therefore wield zero power within the Big 12.

"To be honest with you, Kansas could have been making the same announcement today as TCU did. And Kansas State could have been right there with us. The Big East would have came and got us and K-State and Missouri."
Bill Self, on how close the Kansas schools came to joining the Big East if the Texas schools would have followed through with their threat to join the Pac 10, Hawk Talk
GH: Not sure Mizzou is all that happy with the KU basketball coach deciding on where the Tigers would have ended up if Armageddon would have taken place last summer. I'm not so sure MU would have gone to the Big East. I think we would have seen them heading to the SEC with maybe A&M.
"ESPN has told conferences with ESPN TV deals there won't be more money if they expand. Big East/ESPN TV deal up in 2012, when TCU arrives."
Chip Brown, of OrangeBloods.com, Twitter
GH: Does the Big 12 need to add two teams to allow for a future football playoff game or can they make it as a 10-team league while the other BCS conferences continue to grow? It all depends on what Texas wants. My fear is that Texas will always do what's best for Texas at the expense of their Big 12 brothers.
"It appears the University of Texas has found another cash cow. The proposed Longhorn television network could be worth more than $10 million a year and perhaps as much as $15 million a year under a long-term contract that UT officials are negotiating, sources with knowledge of the discussions say. … If the proposed Longhorn network brought in an additional $15 million annually, that would lift the university's total annual broadcast revenue into the $35 million range."
Ralph K.M. Haurwitz and John Maher, American-Statesman
GH: This is the television contract money that Nebraska tried to get Texas to agree to share with the other Big 12 schools during last summer's meetings in Kansas City. Texas said no and that led to Nebraska's departure to the Big 10 – and a whole lot of nastiness this past football season.
"That's as good as any group of quarterbacks returning as any conference in the country next season. … I think the Big 12 will have at least three teams in the preseason top ten."
Ed Cunningham, listing the number of quality quarterbacks scheduled to return to the Big 12 next season, ABC
GH: Except for Mizzou's Blaine Gabbert, every one of the QBs ABC listed will be suiting up for B12 South schools. Kansas, K-State and Iowa State will once again be in quarterback hell next season unless a miracle happens in recruiting. That is a recipe for another year of no bowls or forgettable bowl invites for three of the four orphans. The fourth orphan, Mizzou, looks primed to dominate its northern brothers for the next decade like Nebraska did in the 80s.
"I'm not going to rehash much from Saturday's one-sided Border War, which really is probably an injustice to the word 'war.' It was more like Border Pillaging or Border Spanking. From their fans to their players, the Jayhawks seemed only mildly interested in the 119th edition of whatever you want to call it. Missouri, meanwhile, played with a purpose, like a pack of wild animals who knew they had to back up their bark with some bite. (Well, make that T.J. Moe's bark."
Dave Matter
, Columbia Tribune
GH: If you're a Kansas fan (even if you're only a basketball fan of your school) that copy has to sting. Get used to it. The pillaging and spankings in the new B12 will be just as Quantrill-like.
"We have 50,000 more alumni in the Pac 10 footprint than we do in the Big 12."
Mike Bohn, Colorado's AD, on the Buffs move to the Pac 10, ABC
GH: Almost no buzz over Colorado's departure but we have death threats in Nebraska. If there is a worse fan base than Colorado's in any BCS conference, I have yet to experience it. But yet it is those damn Huskers who everyone is upset with. It just goes to show you can only really hate the ones you love.
"Head to head results are important, but at some level, a poll voter has to step back and ask him/herself…whom do I think is better?"
Seth Davis, CBS college basketball analyst, attempting to support his decision to rank Michigan State above UConn despite UConn's recent 70-67 win over the Spartans on a neutral court, Twitter
GH: This tweet still makes my head hurt. So the result of a head-to-head game is not as powerful as the opinion of a sportswriter? Can Seth make it rain too?
"Who was in (Frank Martin's) doghouse when they played Duke?"
Todd Leabo, with more than a bit of sarcasm in his voice on the thought Martin is rotating starting KSU players in and out of the doghouse, 810 AM
"This is about Duke. Duke is great! I clapped for them at the end of that (KSU) game."
Kevin Kietzman, 810 AM
GH: Careful, KK. You're starting to sound a lot like a Nebraska fan with that post-beating hand clapping for the conquering opponent.
"A lot of talk has come out of the K-State mouths that they're better than Kansas in basketball this year. Well if they are, their All-American better come out. He let his team down (against Duke) with poor body language and a lack of effort."
Bob Fescoe, 610 AM
GH: I haven't talked to a lot of KSU basketball fans this season but it appears to me it is the national media who has been promoting the Cats as better than the Hawks much of the early season. It is far too early to know which is best. Maybe Mizzou.
"KU (basketball) has played nobody! They're having no fun this year."
Kevin Kietzman, on Kansas' soft non-con schedule, 810 AM
GH: KK made this comment before Kansas took on Arizona, a worthy opponent but far from a top 10 team. While I would agree KU's non-con schedule has been Snyder-esque, it should heat up some the next month with UCLA, Memphis, USC, Cal and Michigan. While those team names may look better on a marquee than the court, I'm guessing they'll offer the Hawks a test or two.
"Kansas isn't going anywhere. They're going to win another 30 games again this year."
Jay Bilas, ESPN
GH: K-State fans would be fine with that as long as they get to hang two losses on their in-state rivals. Mark down January 29th in Lawrence and Valentine's Day in Manhattan for the two most-anticipated B12 hoops game this season. I can already imagine some of the headlines for that second match-up.